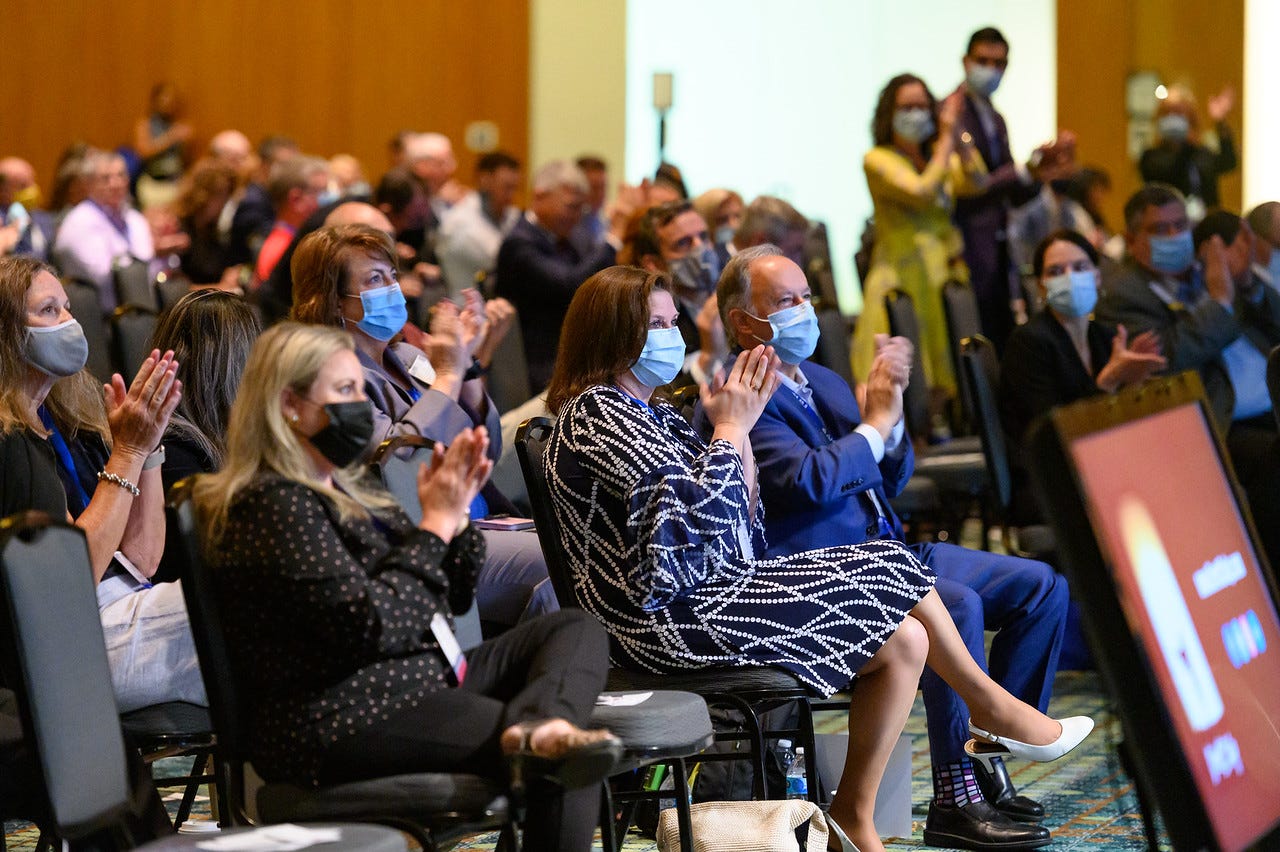 AHRMM22 | August 7-10 | Anaheim, CA
Reach decision makers with real buying power
Promote your latest solutions at the leading education and networking event for the health care supply chain.
Exhibit Booth Fees
Standard Booth: $3,300 per 10'x10'
Corner Fee: $300 per corner

Benefits include:
Pipe and drape
Exhibitor marketing toolkit
(1) full conference and (3) exhibit hall badges
Opportunity to reserve advertising and sponsorship opportunities
Complimentary post-show attendee mailing list
Company listing in print and digital conference materials (subject to deadline)
View the AHRMM22 Floor Plan
Exhibit Hall Hours
Hours are subject to change. Additional Exhibitor Resources will be posted as information is released.
1:15 p.m. - 5:30 p.m.

Exhibit Hall Happy Hour
4:30 p.m. - 5:30 p.m.
Sponsorship Opportunities
Whether your business objective is to boost sales, generate buzz for a new product or increase brand awareness, AHRMM will work with you to develop an integrated sponsorship and advertising package tailored to your marketing goals.

Looking for more options? Contact the AHRMM Sales Team today for the full sponsorship menu and to customize an opportunity.



Contact Us >>
Exhibits (A-M) & Advertising
Nick Schuette
Email / (312) 673-4974

Exhibits (N-Z) & Sponsorship
Kris King
Email / (312) 673-5505
Mobile App
$20,000 (Exclusive)
The AHRMM22 Mobile App keeps attendees connected, engaged, and informed. As the exclusive sponsor, you'll receive recognition on the home screen, a daily push notification, an exclusive section in the mobile app, and recognition on marketing collateral and signage.

Benefits are subject to artwork deadlines — please inquire with the sales team.
Conference Bag
$12,500 (Exclusive)
Gain valuable brand exposure! Your company logo will be co-branded on the AHRMM22 conference bags that will be handed out to attendees at registration. Sponsorship includes an opportunity to provide a full-page insert to be placed inside the bag.
CHarging Station
$10,000 (Exclusive)
Sponsor this high-profile, networking-style station where attendees can charge their mobile devices. To drive traffic to your booth, include a survey at this station and have them turn it in at your booth for a prize. Customization opportunities are available.
Learning Pavilions
$7,500 (8 Available)
Maximize your trade show ROI by presenting a 30-minute education program in one of two Learning Pavilions held in the Exhibit Hall. A Learning Pavilion is a great way to showcase your products and business solutions and position your company as a trusted expert in the eyes of your clients and prospects.
Education Tracks
$5,000 (Limited Availability)
Demonstrate your organization's commitment to education by supporting one of AHRMM22's education tracks. Benefits include logo recognition on signage and conference materials.
Exhibit Hall Happy Hour Raffle
$2,500 (5 Available)
During the Exhibit Hall Happy Hour on Monday evening, attendees who visit your booth can enter for a chance to win $500. AHRMM will provide the prize. Attendees must be present to win.
Search for solutions
$750 (plus prize valued at $100 or more)
Drive traffic to your booth by stamping attendees' cards as they stop by your booth to answer a question about your company. Participants must provide a prize of $100 or greater to be raffled off during the closing reception. Attendees must be present to win.
More Options are available! Get in TOuch to Access the full Sponsorship menu.
See You in Anaheim
Subscribe to our email alerts and contact the AHRMM Sales Team for the latest exhibit and
sponsorship information.